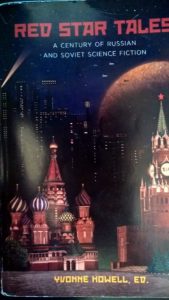 One of the benefits of academia is that every now and then you get what is called a "desk copy," a copy of a publication for you to review for your classes. Most desk copies come as direct requests to the publisher because I am about to have all my students invest on their book for my class. This semester, for instance, I will be ordering Plutopia, by Kate Brown – which is an awesome, awesome historical narrative for those interested in the intersection of urban planning and scientific development.
Sometimes, however, the desk copy just comes to you out of the Book Loving Gods. Such is the case with Red Star Tales: A Century of Soviet Science Fiction. I got the book in the fall at my office mailbox. I remember looking with excitement at the box and saying: "Yay! Desk copy! But which?" I had made sure to assign documents available through my students' online library access, so a hard desk copy was an unexpected treat. Love of just about any kind of reading is one of the prerequisites of an academic career in the humanities. This was a case of the Book Loving Gods feeding me to the proper algorithm at Russian Life Books and, voila, at my desk was a copy of this nice little anthology of Russian science fiction.
According to the book's publication notes, Red Star Tales: A Century of Soviet Science Fiction resulted from a crowd-funding Kickstarter campaign to help defray the publishing costs of the first run of the book. This is a sad commentary on the state of general publishing these days. This anthology is a great contribution for those who want a broader exposure to science fiction – readers like me, who were raised on the Hitchhiker's Guide, C. S. Lewis and Doctor Who. Short stories constitute the majority of the anthology, which made it highly digestible in the hour to hour and a half chunks of time I could devote to attentive reading during the school year. The idea that this volume did not benefit from the push of a more traditional publishing house and its publicity resources concerns and saddens me. To draw a parallel, as President Barack Obama stated in White House Correspondents' Dinner in 2016 about the general state of journalism: "As you know, "Spotlight" is a film, a movie about investigative journalists with the resources and the autonomy to chase down the truth and hold the powerful accountable. Best fantasy film since Star Wars."( http://time.com/4313618/white-house-correspondents-dinner-2016-president-obama-jokes-transcript-full/) It is truly regrettable that more general subject publishing houses should delegate translations, especially translations of genres such as science fiction, to the realm of self-funded publishing.
So… A group of driven translators gets together an agrees to get together an anthology of Russian and Soviet science fiction. (Side note: Sounds like the result of a third pint at ASEEES). Said translators get a few more buddies, a publishing house – in this case Russian Life Books – and a few more buddies to work as editors and social media gurus for the Kickestarter side of things. At least, I imagine that is how it generally happened. The result is a really enjoyable volume of wide ranging stories, covering 1892 to 1992.
Clearly, the more evident market for this collection would be a Russian/Soviet literature survey or a comparative literature course. This collection, however, does rank fairly high on what I would call the airplane/summer beach reading quotient. Read: would this make the two hours before boarding a plane, or an afternoon at the beach or such summer vacation destination enjoyable? The answer is yes, quite so. I am, in fact, thinking of having my tweener son, who has started reading other C. S. Lewis texts, to promise not to wreck the book and have him read it for summer vacation.
The anthology displays an interesting evolution of what I call "narrative technology" in my survey classes. The stories demonstrate the evolution of narrative voice seen in Russian literature throughout the twentieth century. The first interesting feature of the collection is the inclusion of a couple of Valerii Briusov stories, particularly "Rebellion of the Machines." Students of Russian literature generally encounter Valerii Briusov as one of the founders of the Russian Symbolist movement. The presence of a work from 1908 that should strike fear in my heart of a wireless telephone and a microwave in 2016 really speaks of the universality of art and of a disturbingly accurate level of prescience as far as to how technology would evolve in the future. Mikhail Ancharov's "Soda-Sun," written in 1961, is one of the longer selections and displays the narrative leisurely pace of mainstream socialist realist stories. It features a Central Asian locale to represent the exotic other – in this, a Kazakh village. Interwoven with generalized jargon laden language is a meme worthy tidbit: "We look for salvation in endless quests, nut endless questing is endless hunger…" "The Exam," by Sergei Drugal, from 1979, includes Syntax the cat, and a test that ends up with a placement as a preschool teacher. "Jubilee 200," by Kir Bulychev, written in 1985, seems to steal a page from the Planet of the Apes series, but ends with a delightfully engaging plot twist. Sergei Lukyanenko's "My Dad's an Antibiotic" seems to draw a criticism of contemporary Russian politics.
However, the more charming of the stories is an excerpt from the story "Doorinda" by Daliya Truskinovskaya, from 1990. The story features a newly single mother, Ksenya, somehow ends up with a magic door that transports her wherever she can envision. The fragment has the heavy scent of Bulgakov's Margarita to it, as she transports herself from place to place and comes back to turn the whole experience into a fairy tale, like Margarita with the little boy upstairs from Latunsky's studio.
A few of the stories, like "Doorinda" and "Professor Dowell's Head" feature female point of views which prove an interesting change from the technological jargon that seems to overpopulate the male narrative voices. While these seem to err on the side of hyper-feminized stereotype, in the context of the entire collection they prove refreshing changes of what I term narrative technology. This is a refreshing change from standard Russian classic novelistic fare – sorry, Dostoevsky, Tolstoy and Turgenev, we sometimes need a break from you! Toss it in your summer bag/gym bag/soccer practice/honor bang hangout bag and enjoy the trip to different realms of the universe. You will even enjoy contemplating switching your vision with your hearing and vice versa!
Red Star Tales: A Century of Russian and Soviet Science Fiction. Yvonne Howell, ed. Montpellier: RIS Publications, 2015. Available through https://www.amazon.com/Red-Star-Tales-Century-Russian-ebook/dp/B016C3KATY